In this issue…
Presidents message
Upcoming Events
Road Tripping
Como goes to Washington
Greavette Plaque
Cool Hauler
Talking up our club
OACBS President's Message – May 2019


I reported in the last issue that our storage tent was blown away and our storage guy was looking for another spot for us. He has a garage on his property and "Route 66" now has a nice, solid spot to rest between voyages. Thank you Bert!!
We have been on the water
three times since June 12th and we feel lucky as we were away the entire month of May. Each trip was beautiful weather on Lake Okanagan and we had a swim the last two times. Our granddaughter Lucia (on the right), and her friend Lila joined us on our latest ride. This picture shows a couple of happy gals after a cool and welcome dip.
We have an hour meter on board so we can keep track of how much we are using our boat. During the last 2 years, our time on the water, with the motor running, totaled less than 4 hours. This was due mainly to the high levels of smoke in the Okanagan and that we missed the boat show last year. So far this year we have totaled 7.3 hours of run time with approximately 3 hours of additional time spent swimming or picnicking. This is a great start to our boating year and we hope to add many more hours of fun and enjoyment. As we all know, it is more fun to use our boats than to just own them.
We do hope for many more good days of boating before we see you all at the Penticton show on September 27th thru 29th.
OACBS Show: Penticton Lakeside Resort:
This is our very own show and is held September 27th, 28th, and 29th. It is a great location and there are so many activities to enjoy. This is a reminder that we are always welcoming sponsors for our shows. We have prepared a sponsor package that we can forward to you. If you know of someone who would like to support our efforts to keep the antiques and classics floating, please let us know.
Jim Cooper: Show Chairman 250-809-9294
We are always looking for volunteers to help at the show. Let Jim know how you can lend a hand.
We would love to welcome new names to your board to share in the experience of becoming more involved in the running of an ACBS chapter We are able to conduct your board meetings on Skype so there is no need to commute to Kelowna for meetings. Your current board is:
*Bruce Wilson – 250-859-7378 - *Jim Cooper – 250-809-9294
*Bruce Middleton – 250-762-0001 - * Glenda Middleton – 250-861-7822
* Tyson Konecny – 778-288-1959 – *Steve Leslie – 778-835-9813.
Let's hope that the expression of "clear sailing" means no smoke, no floods and warm weather.
All the best for safe boating.
Cheers.
Bruce Wilson
August 24,25, 2019 ACBS Inland Empire Chapter CDA Show
Coeur d'Alene, Id. contact https://www.facebook.com/events/463025464447020/
August 24,25, 2019 CWC Boatshow at Lake Oswego
Portland, Or. contact http://www.cwc-acbs.org/
August 30-Sept.2/19 Priest Lake Dryrot Show
Priest Lake, Id. Contact https://acbs.org/inland-empire-chapter/
Sept.27-29,2019 Okanagan Antique & Classic Boat Show
Penticton, BC. Contact https://oacbs.ca/
Oct.4,5,6, 2019 Mahogany & Merlot
Lake Chelan, Wa. Contact https://www.mahoganyandmerlot.com/
Bonus Stehiken run on the 2nd returning on the 4th
By Steve Leslie
The Peachland World of Wheels is a great way to start the season…
Held on the May long weekend, its always a good way to start the season off! Club members Tyson Konecny, Marty Brown, and myself, took the drive up to Peachland on the Sunday. Every year the good people of Peachland close the main street down and welcome hundreds of quality cars of all kinds! They also opened their beautiful, newly renovated docks to our club.
Chris Casparis brought his gorgeous Sea Sonic and Bruce and Andrew Middleton didn't disappoint by bringing six boats! We had a steady stream of people on the docks all day! This is always a fun day with wonderful people in Peachland!
Click on photos to enlarge
June was busy starting with the Burrard Yacht Club's annual show held in North Vancouver. They open up their clubhouse and docks to Antique and Classic Cruisers as well as Classic and Custom cars. This is a fundraiser for their Sailing program that benefits youth and disabled sailors. Its a great day with dinner and dancing in the evening.
Click on photos to enlarge
The Stay Gold Car show is an event that raises money for mental health. Held June 23rd in Langley, it always has a huge variety of vehicles to see. Supercars, 4x4s, hot rods, lowriders, antiques, VW's, you will see everything! That's why we crashed it with our boats! Car shows are good exposure for our hobby and club.
Click on photos to enlarge
Every Year the PNW ACBS chapter goes all in giving rides to the public as part of Renton River Days, July 27th. Held at Gene Coulen park, its a great place to see Seattle from the waters of Lake Washington. Louise and I took the three hour drive down early Saturday morning when there's no traffic. The PNW chapter is full of friendly people who were happy to see us attend! The docks were filled with some very high end wooden boats. I would have loved to of gone for a ride in any one of them but everybody was too busy giving rides to the public! Over 489! The day was a lot of fun with calm waters and giving lots of rides. We were also treated to a Mexican dinner with great company before heading home!
Click on photos to enlarge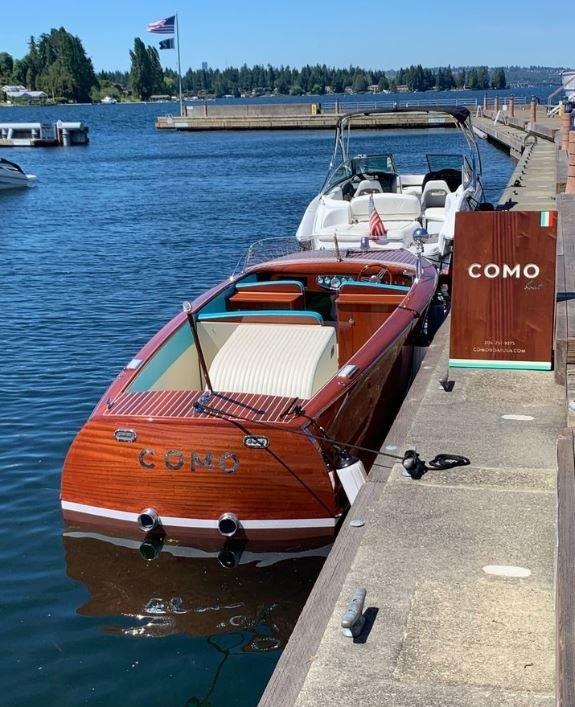 Boathouse Bay Classics deliver….
The crew at boathouse Bay Classics recently finished this custom project for a customer who has a unique purpose for his Shepherd.
Story by Andrew Middleton
Photos by Bruce Middleton
Earlier this year we were approached by a client from Seattle looking for a Mahogany Speedboat that he could use to shuttle patrons to his new waterfront restaurant. From the onset it was clear that he was in the process in creating a fabulous new Italian restaurant to be called COMO and much of his inspiration came from the Lake Como region in Northern Italy. I have been fortunate enough to visit the Italian Lake District and was struck by the similarity to our own Valley and the lakes that surround us.
Bruce went to work finding an appropriate boat to meet their needs for the venture. Como, the restaurant, is located next to the luxurious Wood Mark Hotel at Carillon Point on Lake Washington. Their initial choice was to acquire a Riva. The boat had to have an Italian flair, have an open cockpit to seat a minimum of six guests and allow them to serve wine/appies on route to the restaurant. This venture also had to be accomplished within a certain tight budget. In researching Riva's they come in a variety of formats. The Junior, Olympic and Florida are meant for use as a launch or tender. The Aristan, Tritone and the Aquarama are Cockpit runabouts. Although a Riva would have been a suitable match for the Italian restaurant their budget and availability meant we couldn't make a Riva work for them.
So Plan B…find a beautifully built mahogany speedboat with a open 'Utility' style cockpit. In a Classic boat, a Utility allows boaters free access from the front seat to the back seat with a box over the engine thereby eliminating the need to climb over the engine deck as typically seen on a cockpit style runabout. Chris-Craft, Hacker Craft, Century and GarWood all built Utilities but so did many Canadian builders like Shepherd, Greavette, Duke, Port Carling, etc. We focussed our search on Shepherds, known as the Riva's of North America. Shepherds are a step above the average Chris-Craft and if you have ever had a chance to take a close look, you will see a distinct difference in quality and attention to detail.
Shepherds were built in Niagara on the Lake using luxurious Honduras mahogany. The decks were laid in a unique fashion. On a typical Chris-Craft the deck planks are about 7" wide with a "Live seam" on each edge. Two "fake" seams are cut within the 2 edges. The planks are fastened into Batons/deck beams. On a Shepherd, each deck plank is connected to the adjacent plank with a thin spline. The edge profile is similar to tongue and grove, but more like "grove and grove" with a thin lathe between the planks. This allowed the deck to flex as no batons were required and the deck was not caulked as the spline created a water tight seal. Most Shepherds were built in 2 formats, the Utility as described above but also as "V-Drive" runabouts. This format places the engine in the stern, and the forward facing V-Drive allows the prop shaft to exit the keel similar to an inboard boat. An aft hatch covered the engine, located behind the rear seat. This format created the look of a runabout with a large open cockpit.
With our research complete, we chose a 22' Shepherd Utility that was in need of restoration. It had been 'restored' in the 90's with a new plywood bottom, the decks looked decent and the hull sides had some "short planks". We proceeded to roll the boat over and tackle the bottom. What a mess! The stem was rotten, the keel was saturated with oil and the bottom frames needed attention. These were sorted out and on went the new bottom. Then the fun began. The original deck planks were very thin and once the covering boards were stripped, we noticed signs of decay at the joints. So off came the entire deck and a new one was installed. The hull sides were equally bad. When we went to replace the "short" planks, we discovered they, along with all the planks were bonded to the hull with 3m 5200 and very thin. Consequently, all planks had to be removed leaving little remaining for patterns. The batons were replaced and we set about templating every new plank. The details of the restoration is a long story meant for another article but suffice to say it was an additional task we hadn't expected. What initially was to be a straight forward restoration, turned into a major project…new bottom, hull sides and decks all with a tight time frame for completion.
Click on photo to enlarge
Once the hull was completed we then set out a plan for the interior, using "Riva" styling accents. Aqua or Coral with Ivory vinyl was often used on Riva's. We chose Aqua to match the turquoise in Como's branding. Cabinets were installed behind the front seats and we added an additional 3/4 bench seat in front of the engine box to allow increased seating capacity. We installed a modern cable/ram steering system and tilt wheel, new gauges, windshield and interior lighting. The boat is powered with a modern V8 with a Velvet Drive gear box which pushed the boat to speeds over 40mph.
"Como" was chosen as the fitting name for the Shepherd and was one of the last things we added prior to delivering the boat in mid July. Special touches included the name COMO laser cut into the special stainless steel vents on the engine box plus we added the Italian flag colours on the leading edge of the water line at the bow. On delivery the client was absolutely speechless. The boat is now moored within site of the patrons at Como, a fitting "jewel" to augment the gorgeous setting. The shuttle service is a huge hit. Guests make a reservation, the boat is dispatched and they are delivered to Como in grand style. A second boat has been requested and we look forward to increasing the Como fleet.

Best, Andrew
On behalf of the entire Crew here that made this project possible
You can Visit Como Restaurant here… https://www.comousa.com/
By Bruce Middleton, Absolute Classics
Most of us who are involved with the Classic Boats know there is always a story on how all the famous and maybe not so famous or well known classic boat builders got started. Most were just regular guys who started with a contract to build a boat for someone which then turned into a business for them. Of interest to us fellow Canadians is that there were a number of significant builders, mostly in Ontario and the Muskoka region north of Toronto, who produced some of the most stylish and collectible boats of the golden era of classic boating from the 1920' to the early 1960's. Names like Ditchburn, Minnett, Shepherd, Duke, Port Carling and of course Greavette. Absolute Classics through it's restoration division Boathouse Bay Classics has had the privilege of working on a number of these makes over our 30 years of restorations.
About 3-4 months ago our Christine McPheat, who is an aspiring weight lifter with a goal to make the Canadian Olympic team in her weight class, was talking to us about her efforts in that regard and that she was working with a coach with the last name Greavette who was originally from Ontario. Knowing that it is not that common a name we suggested she ask if he had any relatives in the Muskokas. Well turns out he did and that their family was the same one that was famous for the classic boats that were built in their name. Turns out it was his great Uncle Tom Greavette that was the builder. Some what amazed at the connection we suggested she bring him by to visit and see our operation. So several days later one Guy Greavette dropped by with a big thick Brown Envelope in hand and said we might be interested in what was inside. It was a collection of company archives and paperwork that his aunt had collected and sent him years ago all relating to the boatworks which was in business from the 1930's to the 1960's. He had scanned all of it to a disc and let us download all of it for future reference.
As Andrew and I were going through literally hundreds of scanned documents near the end one stood out to me. It was a photograph taken at the factory of a Dash Plaque from one of the last mahogany boats they built in 1962 – a 20' Deluxe v-drive inboard. The reason it stood out was because about 2 years ago we were approached by a gentleman who had scrapped a Greavette boat that had rotted beyond salvage and wondered if we would be interested in the hardware he salvaged. Of course we were and purchased it all for future sale. In that collection of parts the seller had saved the chrome plated dash plaque from that boat. It just so happened that I had put that part on my desk trying to figure out what I was going to do with it since the boat was now long gone. I pulled it out of the plastic bag it was in and brought it to the computer screen to compare. To my shock and surprise it was the same actual dash plaque that was in the factory photo that Guy had given us!! What are the odds??
It wasn't until the next day that I thought who better to have the plaque than a descendant of the family. So I asked Christine to take on the task of mounting it on a piece of Mahogany that we salvaged from a shop project – stain and varnish it and then mount the plaque. We then had his name put on a hinged plate so he could hang it somewhere. Pictures show a shot of Christine presenting it to Guy Greavette at the gym and a close up of the plaque she built for him.
When Marty and I were at the Burrard Yacht Club Show, we were visited by Leagh and Lynn Gerlays. Leagh told us of how he owns a cool vintage Blazer! He said he had not moved it out of the garage in a long time. Our trucks towing the boats must have inspired him to get it out and tow his boat because he sent these photos a short time later! Thanks Leagh!
As you can see from the photos in this issue, I think there is nothing cooler than a cool car or truck pulling a cool vintage boat! If you have a cool ride to tow your boat send me a photo!
Welcome aboard Sean Longhi and Steve Townsend, our newest club members!
Please share some stories and photos of your adventures on the water or on land with YOUR club!
You can send them to Steve Leslie at leslieland@telus.net
Please be safe and have fun wherever you're boating!
Hope to see you at the Penticton Show! We have a great weekend planned!